The Best Time to Use Tinder Boost: Increase Your Chances of Getting Matches?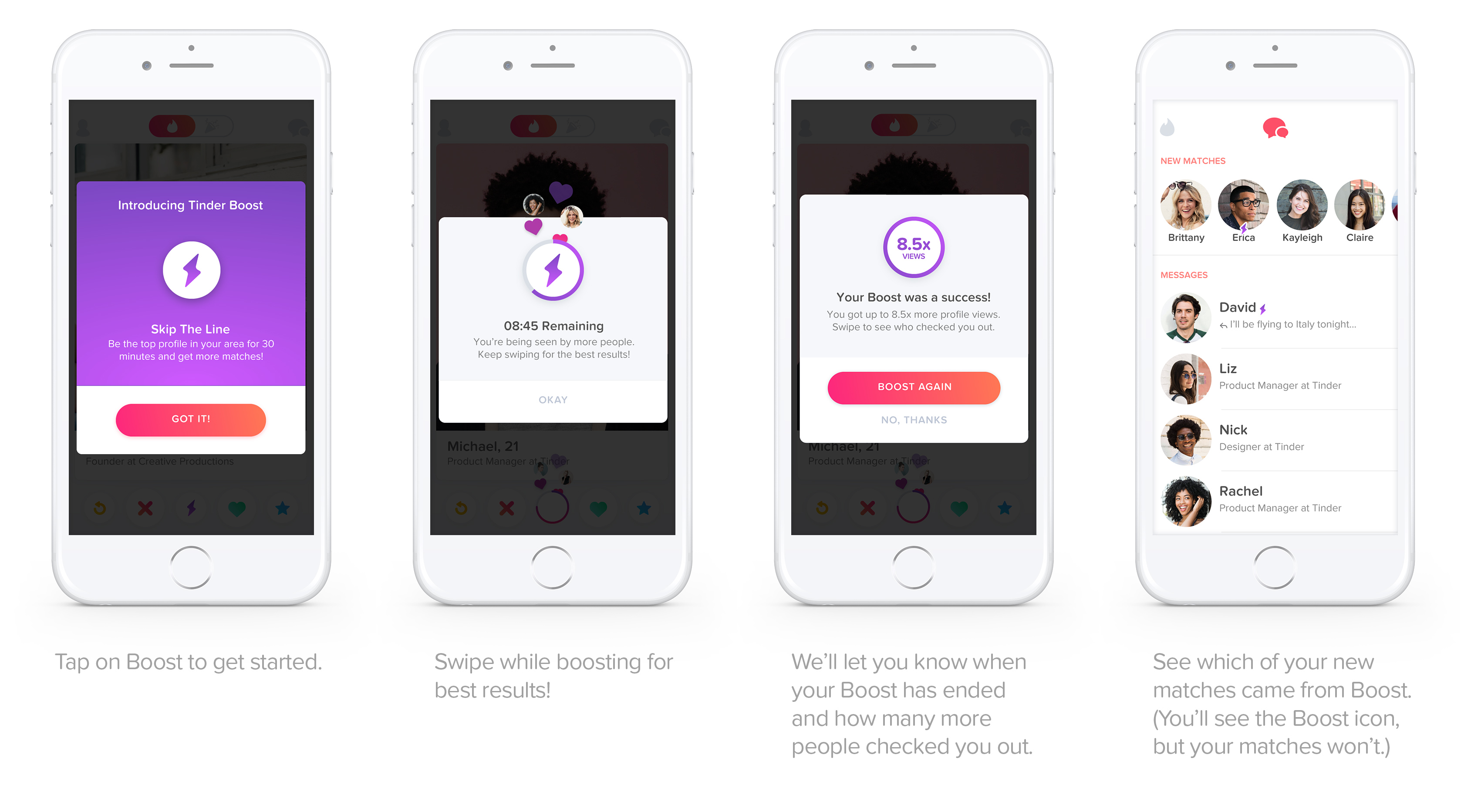 Tinder boosts are incredibly powerful because they let you increase your chances of finding love while you're away from home. If you've ever traveled anywhere new, you'll understand how important it is to find someone nearby if you plan to spend a few days there.
But what's the best way to use Tinder boosts? How do you decide whether to boost now or later? In this post, we'll dive into the data behind boosting on Tinder and see exactly when you should use your boosts.
What is a tinder booster?
If you use a Tinder boost, you become the top profile in your city for thirty minutes. This allows you to receive hundreds of quick matches within just thirty minutes.
So, what does this mean? Well, let me break it down for you. When nearby people open their apps, you'll show up first or near first while boosting. This means you'll get a LOT of quick matches in a short amount of time.
Because of this, using a Tinder hack helps you match with lots of people quickly within a short time frame.
You get one monthly boost if you purchase a pack of boosts. Alternatively, you can buy single boosts for different prices.
For example, you could purchase a $5 boost. Or, you could purchase a 10x boost for $50.
What is the best time to use tinder boost?
If you boost your match rate, then you may want to use your boosted time to meet someone new. When do you know that it's worth using your boosted time?
The answer lies in data. A study by Tango found that people are most active on dating apps between 5 pm and 9 pm. They found that the highest volume of activity happens between 7 pm and 9 pm, peaking at around 8 pm.
This time frame coincides with the peak and non-peak hours that Tinder says people are most likely looking for someone to date. They say that the average person uses the app every three days and spends about 20 minutes per session.
Nielsen found similar trends. Their research showed that the busiest time on Tinder was between 10 pm and 11 pm. They found that the most popular times to swipe on the app were between 8 and 10 pm. And the most common location where people used Tinder was their bedroom or living room.
So, there you go. Try boosting during those peak times if you want to hit the jackpot on Tinder.
Moreover, you can read our article about the best Tinder first message to get an even better impression.
What is the best day to use tinder boost?
In my opinion, the weekend is the best day to do it. I've been trying to figure out what day is better for boosting since I'm pretty sure everyone else is too. So, I did some research and found out that Tinder boosts work best on Sundays because people are probably just hanging out at home watching TV or playing video games. On Fridays and Saturdays, people are probably out partying and having fun. But I know people aren't always looking for dates online, so maybe that's why they're not using their boosts.
I asked around on Reddit and got some interesting responses. Some people said that Monday and Wednesday nights are good times to use your boost, while others suggested Thursday and Saturday mornings. One person even mentioned that he uses it every night, which works great!
Moreover, you should also read our article about the Tinder top picks.
Three ways to utilize the tinder boost to its fullest.
Boosting is one of the most popular ways people try to improve their chances of finding love online. But it's not always effective. If you've ever boosted your profile, you know how frustrating it can feel when nothing happens. And boosting could hurt your chances of finding true love.
There are three reasons why boosting might not work. First, you don't know what you're doing. Second, even if you boost your profile, you probably won't see much improvement because of how Tinder works (strong tinder openers). Third, boosting might decrease your chances of meeting someone real.
Here's what you need to know about boosting your profile.
1. Boosting will not fix your bad profile
Many think boosting is like magic — a quick fix for a bad dating app profile. This couldn't be further from the truth. While you can certainly tweak your profile to increase your odds of getting swiped right, boosting is not a magical solution. You can't change your personality, appearance, interests, hobbies, or anything else about yourself without making changes to your entire life. So, while boosting is great for improving your profile, it's not a good substitute for changing your overall behavior and mindset.
2. Boosting isn't going to change how people view you on Tinder
If you're looking for a quick fix, boosting might seem appealing. After all, you can spend less than $10 to add some extra points to your profile. However, even though boosting increases your number of likes and comments, it doesn't necessarily mean that those people are interested in you. Many people boost profiles simply because they want to look better than others. They aren't trying to find love, so boosting isn't helping you meet anyone.
3. Boosting might decrease your chances of meeting someone real
You may think you'll get more quality matches if you boost your profile. But, this isn't necessarily true. When you boost your profile, you're increasing the likelihood that other tinder users will swipe on you. The problem with this is that you're also increasing the likelihood that they'll swipe left.
When you boost your profile, other users have an easier time seeing your picture. Because of this, they're more likely to swipe right on you. But, since you're boosting your profile and putting yourself out there, you're also increasing the chance that they'll swipe left instead of right.
So, while boosting your profile might make you feel like you're being more attractive, it could decrease your chances of finding someone real.
Moreover, it is very bad for Tinder that you can't send pictures in the Tinder chat box, but we have found 5 different ways to send pictures to you on Tinder.
Super boost feature on Tinder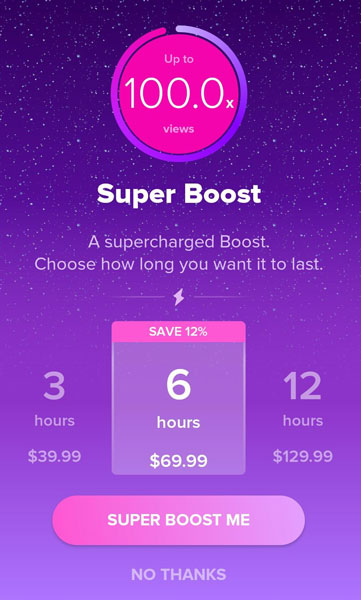 Tinder recently rolled out a new update called Super Boost. A Super boost is a better way to stand out among other users. If you're looking for a date, you'll probably want to spend some money and time on one. But what does it cost? And do you get what you pay for? We asked Tinder expert, Dr. Pepper Schwartz, to help us figure it out.
Tinder says it results in 100 times more profile views than regular boosts. So if you've got a lot of followers, you might want to consider spending a few bucks on a boost. You won't get a free boost, however. Pricing varies depending on how long you'd like your boost to last: three hours cost $52.99, and six hours cost $92.99. You can read up on the full terms here.
Does the super boost feature on Tinder worth it or not?
Tinder Super Boost is pretty much like a Premium subscription. You can spend $10 monthly and receive unlimited swipes for three hours. This is what makes it different from Tinder Gold and Tinder Plus subscriptions. While both options give you access to premium features, Tinder Super Boost allows unlimited swipes for three hours.
This feature is usually reserved for celebrities, influencers, and high-profile individuals. But now, regular users can enjoy this super boost too. So how does it work? If you opt for this option, you'll see a green button next to every profile photo on the app. Tap it, and you'll immediately start receiving unlimited swipes.
The problem is that this feature costs a lot of money. You'd have to pay about $30 monthly to get this benefit. And since there's no way to cancel it once you've signed up, it's probably best to avoid this perk altogether.
However, if you saw someone's profile that you might like but want to discuss it with your friend, you are afraid of taking a screenshot of whether Tinder will notify you or not. To learn more about it, read our in-depth article, where we discussed it.
Three things to do before using Tinder boost for maximum output
Tinder is one of the most popular dating apps around. If you're looking for love, it might seem like there are endless potential matches to go around. But how do you stand out from the crowd? Here are some tips to help you use basic Tinder Boost effectively.
1. Be yourself
We've learned about Tinder that the type of people want to see themselves reflected in the tinder profiles they swipe left. So don't try too hard to impress anyone else. Instead, focus on making yourself look good. You'll find that people will naturally gravitate toward you because you're the real deal.
2. Include your best photos
When you upload photos (try to upload attractive photos or nice photos) to Tinder, you're given three options: "Best," "Good," and "Average." Pick the one that represents you best. Don't worry too much about what others think; pick the photo that makes you feel confident.
3. Add a bio
The bio is where you tell others why you're interested in meeting someone. Make sure it includes your interests, hobbies, and goals. This way, people won't waste time swiping right on you if they aren't really into you.
Frequently asked questions
1. What do most women on Tinder become active?
Women tend to be online at night. They're less active during the day because they're busy working or studying.
2. How many men use Tinder?
Men are using Tinder more than ever before. Over 50% of all people who use the app are male.
3. Does Tinder boost work?
Boosting doesn't guarantee that you'll meet someone. It just increases the odds that you'll find someone.
4. Is Tinder gold worth it?
Yes! Tinder Gold gives you access to exclusive features, including boosted profiles and private chats.
5. Can I cancel my Tinder subscription?
No. Once you sign up for a subscription, you're locked into paying for it each month.
6. Will I get banned from Tinder if I don't pay for a subscription?
No. However, you will lose access to all of the features available through the app.
7. How do I cancel my Tinder subscription without losing access to the app?
Then click on "Cancel" under the current plan.
8. Why should I upgrade to Tinder Plus?
You'll gain access to exclusive features such as boosted profiles and private chat rooms.
9. Are there any hidden fees with Tinder Plus?
There aren't any additional charges when you subscribe to Tinder Plus.
10. Does Tinder plus subscription worth it or not?
Yes. The price is reasonable compared to other dating apps.