How to Find Someone on Tinder (Even If You Don't Know Their Name)!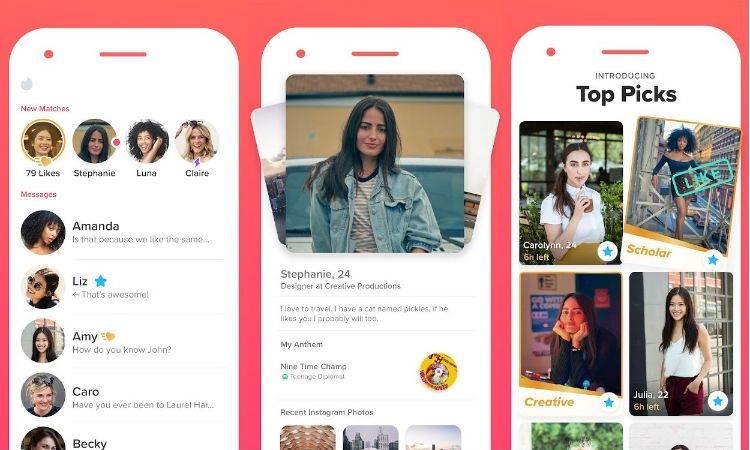 Tinder is wonderful for helping you locate compatible individuals in your area, but it might be more challenging to zero in on a specific person when you're looking for them on the app. There is no official way to locate the dating profile of another Tinder user if you have not previously matched with them, but there are a few basic workarounds that may be used to accomplish this goal. This post will walk you through the best ways to locate someone on Tinder, including adjusting your discovery settings and using websites that are not affiliated with Tinder but do people searches.
8 ways to find someone on Tinder
1. Use Tinder's search engine
Tinder allows its users to choose the URL of their profile. This way, it looks more professional, and the app displays it in a special format. For example, my name is "Karen". I chose tinder.com/karen. Now, whenever someone searches for me on another platform, they see something similar: tinder.com/Karen.
This feature is great because it makes finding potential matches easier for those seeking a particular type of person. However, there is one caveat: you must know the exact username of the person whose profile you want to view. So, let's say you're interested in meeting someone named John Doe. You go to his profile, and he doesn't use a unique username. Instead, he goes by John Doe. In that case, you'll only see profiles where the person is known under John Doe's username.
You might see a long list of profiles if you don't know the correct username. Some might even look legitimate, but most likely, they won't be relevant.
The best thing to do here is to check out the person's other accounts. Maybe they've used the same username on other platforms. Or maybe you can find their real name somewhere else online. Either way, you'll increase your chances of getting what you want. To do so:
Once you've navigated to the main page of the Tinder app, tap the message button. It looks like a speech bubble and might appear at the top of the page.
You may access the search bar by dragging the top of the screen down until you reach it.
To locate a person, type their name into the box designated for searches.
Moreover, you should also read our article about Tinder tips for guys if you are a man.
2. Adjust your discovery settings
You may find a match with them if your search options are specific enough. The person you're looking for can be found through this alternative, though it's a bit more roundabout. To make changes to your Discovery settings, please:
Launch the Tinder app on your device and select the profile icon at the top of the screen.
Tap Settings.
Tap the Discovery button once you've scrolled down.
After that, you may play around with the parameters to improve the likelihood of a successful connection with the individual you're looking for.
Under the Show Me tab, you may make the age range as near their age as possible and restrict the results to their gender. Use the amount of distance that separates you from their home as the basis for the Maximum Distance setting.
3. Use the URL method
Enter https://tinder.com/@[username] into the address bar of your web browser. Tinder is available both as a website that can be browsed and as an app that can be downloaded. Tinder provides each user with a unique URL, which can be found at https://tinder.com/@[username] (without the brackets). If you know the person's username, you may quickly locate their profile using this method.
If you don't know their username on Tinder, you might try looking for it on other social networking platforms, such as Instagram, Twitter, or TikTok.
4. Use the google search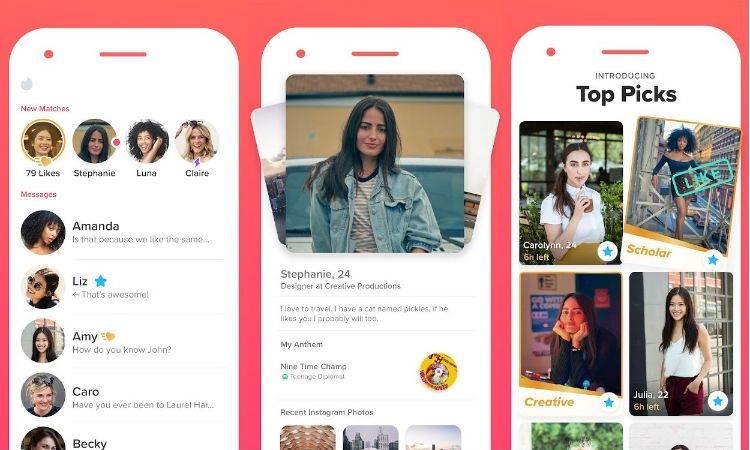 In the Google search bar, type "site:tinder.com," followed by the person's name. This will provide you with search results that are exclusive to the Tinder website only. You can use the person's true name, or if you are familiar with their username, you may use that instead.
For instance, to find John Smith on Tinder, go to the Google search box and enter site:tinder.com.
If you use this approach, you ought to be able to view their profile even if you do not have a Tinder account.
5. You can use third-party tools as well.
Several different websites may assist you in finding individuals to talk to on Tinder. If none of the previous approaches are successful, you may use one of these services to determine whether or not the person you're looking for has a Tinder profile. Most of these services either need a paid subscription or demand a price to search. You might check for the individual using Social Catfish, a service that lets you search Tinder using a username, phone number, or email address. This is a service that requires a subscription to use.
When you search for a person using their name or phone number, the website Intelius, a person's search, will reveal the individual's social media accounts and other public information. Intelius is another service that operates on a subscription basis.
Spokeo is a website that enables users to seek information about others, such as their contact information and social network accounts. You will not be able to view their Tinder account or any other social media information unless you pay for a membership.
Cheaterbuster, formerly known as Swiperbuster, is a website that was designed with the express purpose of assisting users in locating potential matches on Tinder. You can purchase a membership plan or "search credits" as needed. Both options are available to you.
Best third-party app to use: Catfish
Social Catfish helps you look up people on Tinder by searching Facebook profiles. We use social media platforms like Instagram, Twitter, LinkedIn, YouTube, and others to build our database. Once we have enough data, we search against it to find matches.
We are constantly updating our databases to include more information about each person. When someone uploads a photo or changes their name, we update our records accordingly. This makes finding where someone lives in their schools much easier.
You can use our site to search for anyone on the planet. Just enter their full name into the search bar. Our system will return a list of possible matches based on your entered criteria.
6. Change location settings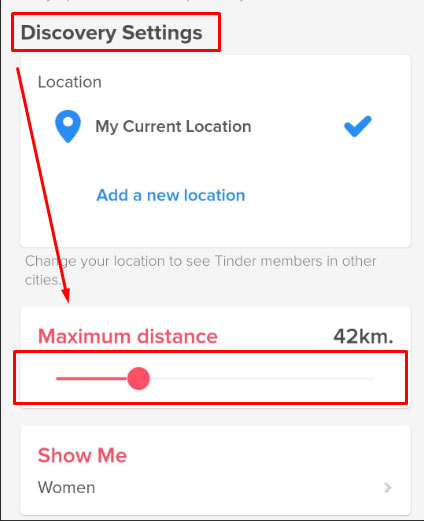 Tinder is one of those dating apps that are easy to use. If you've ever used it, you probably already know how it works. However, there are some things you might not know about Tinder. Most people don't realize that you can choose where your matches come from. This isn't something many people think about, but it can make a big difference. For example, if you live in New York City, you'll see mostly NYC locals on your Tinder feed. But if you move to San Francisco, you could start seeing SF natives in your feed.
To do this, go into your profile settings and scroll down to "Location." You can select what areas you'd like to show up in. For instance, if you wanted to find someone in London, you could set your location to London, England. To check out where your matches are coming from, tap on the name of the person who sent you a match. Then, you can view their location on a map.
Another way to find someone nearby is to use the Tinder feature called "Nearby," which allows you to specify a radius around you. So, if you're looking for someone within 10 miles, you can enter that distance into the box.
If you're feeling adventurous, you can even try the Tinder Plus subscription, which gives you access to extra features. These include sending unlimited messages, seeing who likes you, and much more.
However, once you find someone you have been looking for on Tinder, you should send her/him the best tinder openers. If you don't know how to write one, then you should read our article.
7. Use their email
Another method that is both quick and efficient for searching on Tinder is to do a reverse email search. Email addresses are required for practically all interactions in today's world. As a result, conducting an email search might serve as the entry point to meeting someone through Tinder. In addition, as was discussed previously, conducting an email search is nearly as easy as conducting a phone search. You need to input the person's email address into one of the purple search boxes on this page, then click the "search" button, and you'll have the information you need. It won't take you more than a few seconds to discover their Tinder account.
Moreover, when you find the user you were looking for, you should read our article about the best Tinder first messages before messaging them.
8. Use their phone number
Conducting a reverse look-up of a person's mobile number will reveal their digital footprints, which will help you locate them on Tinder. One of the easiest methods to discover someone's Tinder account is by conducting a reverse look-up.
However, once, you find someone, you can send your photos to them. If you don't know how can you send pictures on Tinder, then you should read our article.
In case these won't work: Hack Tinder Algorithm.
When it comes to the algorithm Tinder uses, it's probably for the best all-around if Tinder makes it more difficult for men to find matches.
If Tinder allowed everyone to message, the most beautiful ladies would be inundated with messages. And they'd stop using the app. Tinder has to figure out a means to separate the males into different categories based on some ranking system.
That rank can be decided by anything, including but not limited to:
What percentage of the ladies do you message to reply to you?
What percentage of women reply to the initial line you gave them?
How frequently do you make use of the app?
The speed with which you react to people's communications.
Percentage of times you swipe right.
Tinder, in its most basic form, assigns you a score based on how desirable you are. As a result, it makes perfect sense to place the "worst" profiles towards the end of the list. As a result, even though they do everything "right," many males still have trouble securing dates through Tinder. 
But not the same with the other dating apps, you can read our article, where we compared Tinder, Hinge, and Bumble.